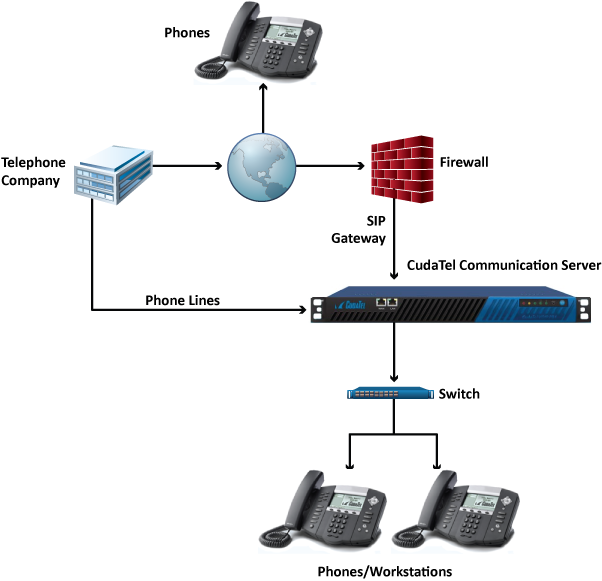 There's no bulky equipment to bolt to a plywood board. Put CudaTel in the rack next to your Active Directory, Exchange, Windows and Linux servers. You know that VOIP is just another application on your network— it's time to manage it that way.
Standards-based Technology
CudaTel uses the SIP standard protocol, supported by phones and carriers around the world. Use any SIP-compatible phone, application, or smartphone app: Polycom, SIPDroid, Acrobits— you pick! Then, get connected using any SIP-compliant VOIP service at a fraction of the cost of traditional phone service.
Native Phone Line Hardware Integration
Some models of the CudaTel Communication Server come pre-configured and optimized with best-of-breed telephony company integration (TDM) hardware, with onboard echo cancellation and support for four analog incoming lines, up to quad T1s.
SIP Phone And Provider Support
CudaTel Communication Server supports SIP for both provider services (telephone company) as well as end user devices (phones, software clients). Any SIP-compliant service or device can be used with CudaTel.
High-Definition Voice Quality
Using supported phones, the CudaTel Communication Server provides unmatched voice quality. High-Definition (near CD quality) audio is delivered through the G.722, G.722.1, and G.722.1c codecs.